J.P. Morgan Chase, the largest bank in the U.S., provides indispensable intelligence and personalized insights to individuals and families across the globe.
To reflect the breadth of the bank's mission and the company's imperative to target and acquire new audiences for the J.P. Morgan Private Bank, we started by redesigning the primary touchpoint clients experience: 
the Private Bank Website.
We immersed ourselves in J.P. Morgan's world to understand the experience high net worth clients have with the bank and reframed the bank's approach to acquisition to be centered from the client's perspective—a first for the company.
JPMPB faced a few challenges from both brand and audience perspectives:
Lack of Identity and Expressed Mission
Shallow Content and
Poor SEO
Lack of Meaningful Data Capture & Personalization
Leverage a website redesign to Enhance Brand Perception and Amplify Brand Awareness by turning the website into a powerful Lead Acquisition Machine through a Rich Content Experience.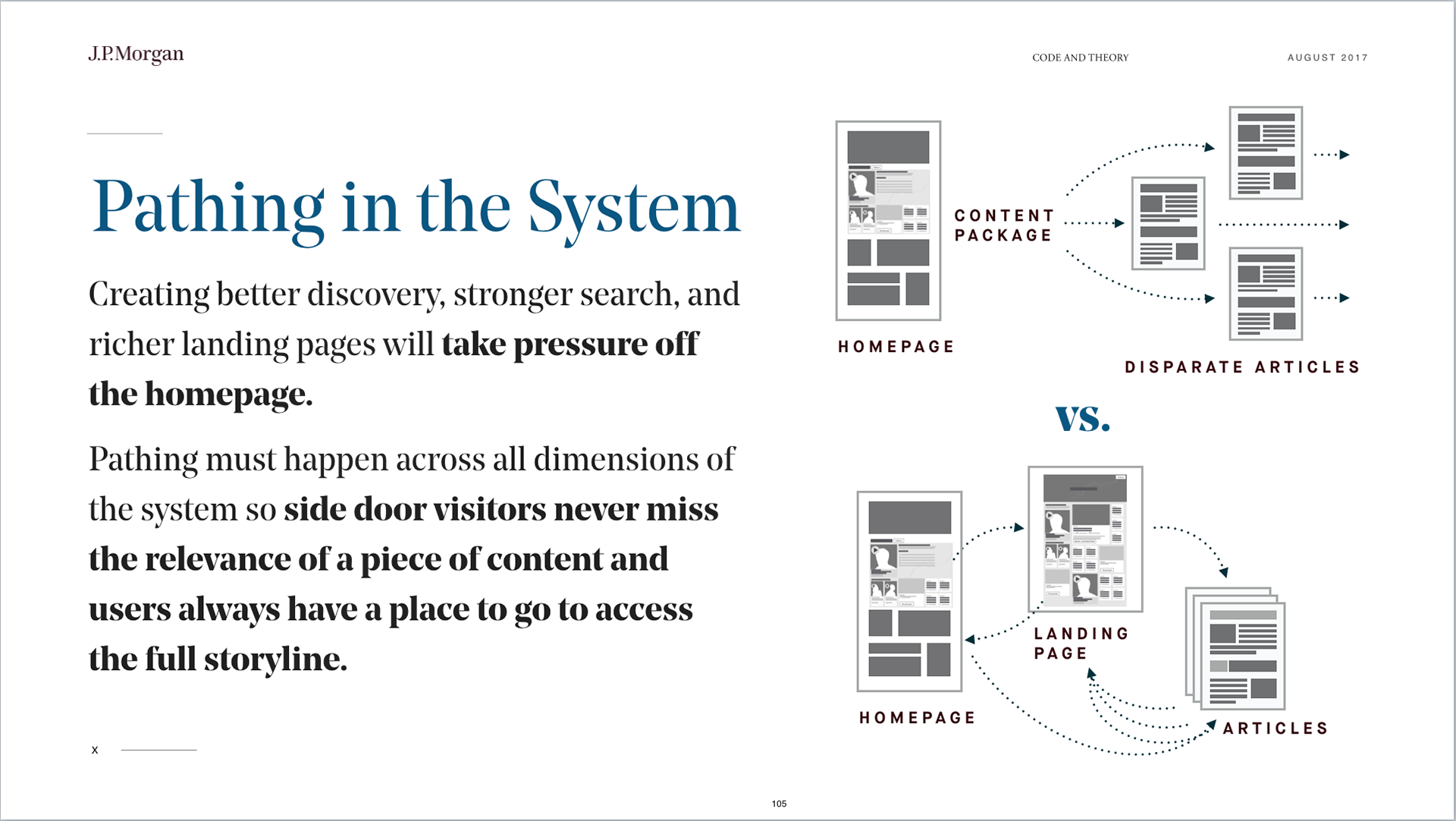 Over time, wireframes were designed at increasing fidelity as concepts took shape. We wanted the homepage to make a bold statement, to serve as an introduction to the Private Bank, as well as a guide to whatever information the visitor wanted most. To that end, we developed the "concierge module" to allow visitors to quickly and painlessly self-identify by completing the sentence "I am a ____." By doing so, the visitor would discover insights and capabilities aligned to their needs.


We determined the Private Bank site could work with four page templates and around 30+ modules, including variants. 
To ensure our bases were covered, a CRD (current requirements document) was developed to identify every piece and where it fit in the overall experience puzzle.
In addition to an overhauled and more modern look and feel, user journeys were rethought and optimized, and everything what rebuilt on a new AEM CMS providing enhanced publishing, analytics, and marketing tools. 
The Private Bank website launched in May 2019.